Fr Francis Ututo SMMM
Parish Priest of St Cuthbert's & Our Lady's
---
Fr Francis C Ututo SMMM, is a member of the Religious Congregation of the Sons of Mary, Mother of Mercy (SMMM). The SMMM was founded on 25 October 1970 by Bishop Anthony Gogo Nwedo, C.S.Sp. in Umuahia, Abia State of Nigeria. Today, the members of this Congregation serve in different archdioceses around the world.
Fr. Francis was ordained on 21.July. 2012. His mission is to serve our parish as a son, brother and friend. He asks for our prayer and support as he undertakes this new pastoral assignment.
---
Updates - 16.May.2022
Monsignor Tony's eulogy for his anniversary Mass
Please use this link to join our Parish Facebook group
---
Mass Timings
Please note the change in Sunday Mass timing at St. Cuthbert's.
St. Cuthbert's
Tuesday and Thursday at 9 a.m.
Saturday at 10 a.m.
Saturday Vigil Mass at 6 p.m.
Sunday Mass at 9.30 a.m.
(Reconciliation after Saturday 10 a.m. Mass)
Our Lady's
Wednesday and Friday at 10:00 a.m.
Sunday Mass at 11:30 a.m.(Reconciliation after Friday 10 a.m. Mass)
There is no need to wear a face covering in church (though you can continue to wear one if you wish). Please continue to respect the space of fellow parishioners and remember to sanitize your hands upon entering and leaving the church.
---
Monsignor Tony Duffy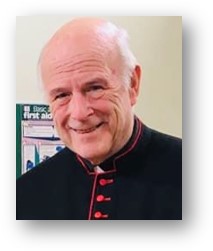 (1947 - 2021)Rest in Peace
Monsignor Tony Duffy served the parishes of St. Cuthbert's and Our Lady's for around 38 years. His first stint at St Cuthbert's was between 1973 and 1979. Since 1989, Monsignor Tony Duffy has been the parish priest at St Cuthbert's and latterly also the parish priest at Our Lady's, since 1998.
---
Newsletters
24.Sep.202317.Sep.202310.Sep.202303.Sep.2023
---
You are very welcome to this website of St. Cuthbert's Catholic Church in Edinburgh. Modern communication technology means that we are continually finding new ways of spreading the Gospel and building up the Kingdom of God. I hope this website will play its part in achieving this in the weeks and months ahead, helping us grow in our faith, understanding and love of God.
May God bless you and those dear to you.
Monsignor Tony Duffy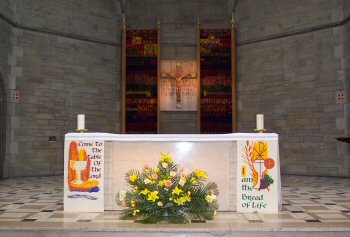 Let us pray for one another at this profoundly challenging time for us all and all those affected physically, emotionally spiritually and economically.
Let us pray for all those in the medical field, doctors, nurses, support workers, carers, pharmacists who are giving of their skills to protect us.
Let us pray for those whose businesses and livelihoods' are being affected.
May God Bless you and bring you his help and strength.
Monsignor Tony