All Public Masses are Cancelled
---
Following the Covid-19 announcement made by the Scottish Government, all public masses on Sundays and weekdays at St Cuthbert's and Our Lady's churches are cancelled until further notice. The church has no choice in this matter as instruction to stay home is now mandatory. Please continue to look at the website for updates.
Funerals will continue under present restrictions so please contact Monsignor Tony when necessary.
---
"Many of you will be aware that Monsignor Tony has not been in good health. Before Christmas he was admitted to the ERI where investigations were carried out. Thankfully he is now back in the church house but will need to take things easy until he regains his full strength. Monsignor Tony would like to thank everyone for their prayers and good wishes."

Mary Mulligan, St Cuthbert's Parish Council.
---
Newsletter - 07.Feb.2021
St. Cuthbert's & Our Lady's - NewsletterReflections for the week
---
You are very welcome to this website of St. Cuthbert's Catholic Church in Edinburgh. Modern communication technology means that we are continually finding new ways of spreading the Gospel and building up the Kingdom of God. I hope this website will play its part in achieving this in the weeks and months ahead, helping us grow in our faith, understanding and love of God.
May God bless you and those dear to you.
Monsignor Tony Duffy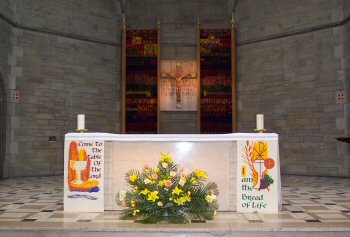 Let us pray for one another at this profoundly challenging time for us all and all those affected physically, emotionally spiritually and economically.
Let us pray for all those in the medical field, doctors, nurses, support workers, carers, pharmacists who are giving of their skills to protect us.
Let us pray for those whose businesses and livelihoods' are being affected.
May God Bless you and bring you his help and strength.
Monsignor Tony and Father Martins