We are deeply saddened to announce the death of our beloved parish priest Monsignor Tony Duffy. Monsignor Tony Duffy died peacefully on 12th May at the Western General Hospital following a period illness and was given the rites of the Holy Church. He was 73. The funeral mass for Monsignor Tony was held in St Cuthbert's church on Tuesday 25th May. View the funeral mass online recording using the following link https://porteousfunerals.com/video-stream/(Password: porteous2316)
---
Important letter from our Archbishop.
Updates - 14.Aug.2021
BCOS Covid UpdatePastoral Letter
---
Mass Timings
Please note the change in Sunday Mass timing at St. Cuthbert's.
St. Cuthbert's
Saturday Vigil Mass at 6 p.m.
Sunday Mass at 9.30 a.m.
Our Lady's
Sunday Mass at 11:30 a.m.
Following the changes to social distancing rules we will now be able to welcome more people back to mass, however we will still need your contact details to fulfil our track and trace responsibility. If you are concerned about the social distancing space please speak to the passkeepers who will do their best to find you a seat with a little more space. Archbishop Leo recently said it is time for people to return to Sunday mass, we very much want to welcome people back but we need to do so in a way that allows our fellow parishioners to feel safe, please continue to follow the guidance of the passkeepers.
Please be aware
Mass bookings are not required now
Face-coverings will need to be worn at all times unless you are exempt
Hand-sanitising will continue on entering and leaving the Church
---
Monsignor Tony Duffy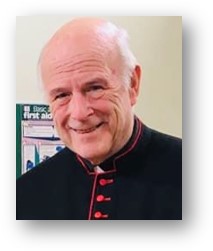 (1947 - 2021)Rest in Peace
Monsignor Tony Duffy served the parishes of St. Cuthbert's and Our Lady's for around 38 years. His first stint at St Cuthbert's was between 1973 and 1979. Since 1989, Monsignor Tony Duffy has been the parish priest at St Cuthbert's and latterly also the parish priest at Our Lady's, since 1998.
---
Church Opening Supplement (27.Mar.2021)
---
Newsletter - 07.Feb.2021
St. Cuthbert's & Our Lady's - NewsletterReflections for the week
---
You are very welcome to this website of St. Cuthbert's Catholic Church in Edinburgh. Modern communication technology means that we are continually finding new ways of spreading the Gospel and building up the Kingdom of God. I hope this website will play its part in achieving this in the weeks and months ahead, helping us grow in our faith, understanding and love of God.
May God bless you and those dear to you.
Monsignor Tony Duffy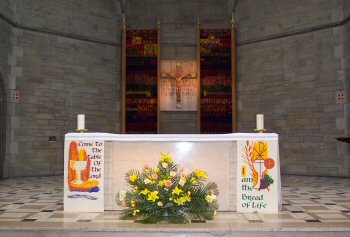 Let us pray for one another at this profoundly challenging time for us all and all those affected physically, emotionally spiritually and economically.
Let us pray for all those in the medical field, doctors, nurses, support workers, carers, pharmacists who are giving of their skills to protect us.
Let us pray for those whose businesses and livelihoods' are being affected.
May God Bless you and bring you his help and strength.
Monsignor Tony