Important letter to the parishioners from Archbishop Cushley
(Click to Open)
.
---
Mass Timings
(12.April to 18.April)
Please note the change in Sunday Mass timing at St. Cuthbert's. There will be no weekday masses until Fr. Aidan is able to move into the Currie house.
St. Cuthbert's
17.April, Vigil Mass at 6 p.m.
18.April, Sunday Mass at 9.30 a.m.
(Weekly Booking – Click to Open)
Our Lady's
18.April, Sunday Mass at 11:30 a.m.
(Weekly Booking – Click to Open)
Please Note: As per government directive, a maximum of 50 people can participate in each service. Advance booking is required for each service. Bookings will open at 9 a.m., two days before each service e.g. Bookings for Sunday Masses will open on Friday, 16.April at 9 a.m. Booking is not required for children less than one year old. Due to limited capacity it is not possible for all parishioners to attend mass every weekend, kindly think of others before you book. Please maintain social distancing, follow the directions of the Passkeepers and wear a face mask unless exempted. Children less than 5 years old are exempted from wearing a face mask. Thank you for your understanding.
---
Church Opening Supplement (27.Mar.2021)
---
Newsletter - 07.Feb.2021
St. Cuthbert's & Our Lady's - NewsletterReflections for the week
---
You are very welcome to this website of St. Cuthbert's Catholic Church in Edinburgh. Modern communication technology means that we are continually finding new ways of spreading the Gospel and building up the Kingdom of God. I hope this website will play its part in achieving this in the weeks and months ahead, helping us grow in our faith, understanding and love of God.
May God bless you and those dear to you.
Monsignor Tony Duffy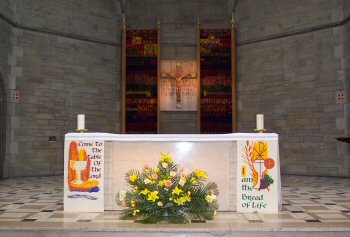 Let us pray for one another at this profoundly challenging time for us all and all those affected physically, emotionally spiritually and economically.
Let us pray for all those in the medical field, doctors, nurses, support workers, carers, pharmacists who are giving of their skills to protect us.
Let us pray for those whose businesses and livelihoods' are being affected.
May God Bless you and bring you his help and strength.
Monsignor Tony